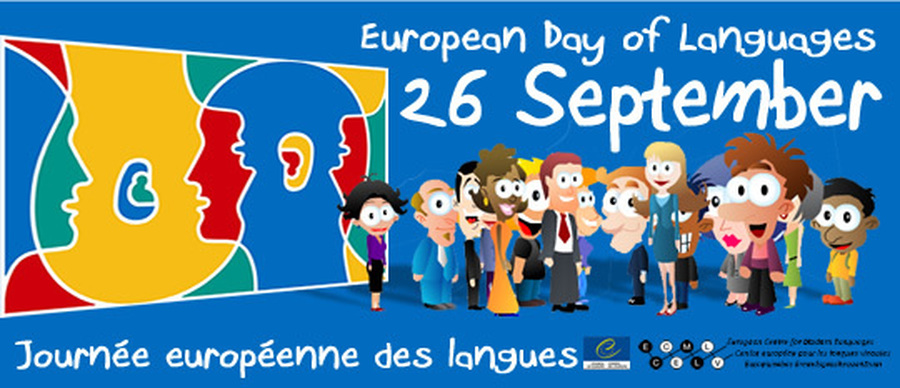 Team GD will be celebrating European Day of Languages on 26th September.
"The European Day of Languages (EDL) is celebrated across Europe on the 26th of September every year. It aims to promote the rich linguistic diversity of Europe and raise awareness of the importance of lifelong language learning for everyone. It was set up by the Council of Europe and was first celebrated in 2001." SCILT
Which language would you like to learn? How many new words will you know by the end of the day? Who will you teach them to?
Why not take part in the European Day of Languages T-shirt Contest...?
You could have your layout on the official 2018 EDL T-Shirt!!!
Follow this link for extra information: http://edl.ecml.at/T-shirts/EDLT-ShirtContest/tabid/3147/language/en-GB/Default.aspx
You could also make a video about why you love a particular language and take part in a world record attempt:
Follow this link for extra information: http://edl.ecml.at/record/tabid/3158/language/en-GB/Default.aspx
Spectacle de marionnettes en français
(French puppet show)
Key Stage 1 and 2 pupils were in for a treat this afternoon, as they watched a puppet show performed in French and in English by Diana Bayliss from Black Cat Theatre. You might remember that Diana had held a successful puppet workshop last year with the current Year 5.
I was really proud of our Grimes Dyke pupils who followed with interest the story of Lola, a French doll who has to learn English. They showed off their linguistic skills, repeating words with the correct pronunciation and sometimes saying the words in French even before Lola or Diana had uttered them. Bravo, Grimes Dyke !
Year 1 Lions enjoyed a slice of Galette des Rois during their French lesson on Friday afternoon.
The galette des rois (which translates as 'cake of kings') is a cake made with puff pastry and frangipane, which reminded some of the pupils of Bakewell tarts.
The cake is traditionally eaten on 6th January for the Epiphany when people celebrate the arrival of the wise men bearing gifts for baby Jesus.
Pupils also enjoyed watching a videoclip of the galette's story. Have a look yourself and see if it reminds you of a certain traditional tale ...
https://www.youtube.com/watch?v=7aQ6FKuit1o
Joyeux Noel
The KS1 and KS2 Christmas Productions rehearsals are going well. If you have heard your child sing a French Christmas song at home and would like to help them practise, help is at hand.
Have fun joining in !
French Puppet Workshop
Year 4 pupils took part in a workshop led by Diana Bayliss from The Black Cat Theatre. They created their own puppets only using newspaper sheets which they folded, crunched up and joined together with masking tape. It was a lot of fun!
Afterwards they had a go at being puppeteers and making their puppets move and talk in French.
Diana Bayliss will be coming back in January for another workshop and a puppet show. A lovely treat for Year 4 to be looking forward to, at the beginning of next year.
Black History Month & French
Year 5 pupils found out that there is no Black History Month in France YET.
They learned about an anti-racism organisation in France, called SOS Racisme, and how it operates.
They made badges with the organisation's logo. The slogan 'Touche Pas A Mon Pote' means 'Hands off my pal'.
European Day of Languages at Grimes Dyke
We had fun learning a few words in new languages.
Watch the videoclips below to see some of GD pupils communicating in BSL, Italian and Spanish.
There is even a new girls' band in Y1T who sings in French whilst strumming their ukuleles...
Le theatre en francais ...
Have you always dreamed of being an actor or an actress? Do you enjoy reading plays? How about writing playscripts? Do you have a talent making props or doing the lights and sound? Would you like to put your linguistic skills to use?
If your answer is YES to any of these questions then Team GD needs you!
Mrs Beynon-Tullett and Mrs Vastel are challenging you to work in a team to create a play in French. The production will be performed on Tuesday 14th July when our school will be having a French-themed day.
The play will be called 'Vacances en France' and will follow the adventures of 2 children travelling to France.
For information regarding the audition and the rehearsals, please come and talk to Mrs Beynon-Tullett and Mrs Vastel.
A bientot !