" Overall, we conclude that most pupils with identified SEN/D make good or better progress that works on closing the gap between children with SEN/D and their peers. " SEN/D report
What do pupils think about how we help them?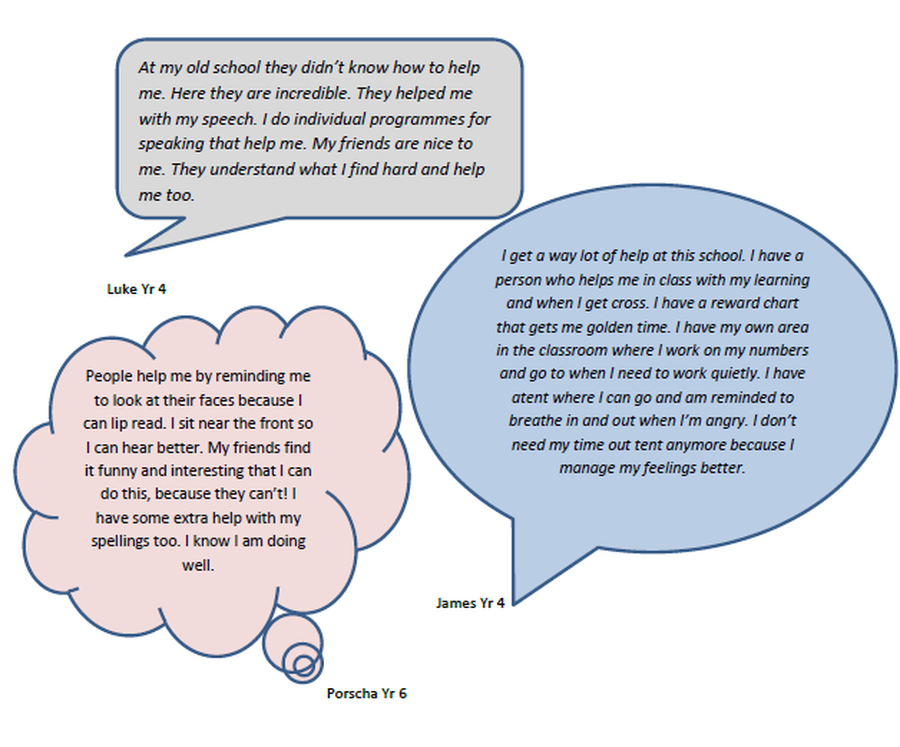 What do pupils with SEND think about how we help them?

What do parents say?
"Absolutely fabulous. Great care taken - any problems always sorted. Ben feels safe loved and included in all aspects of school life. Much appreciated" Year 5 parents
"Conner's speech is coming along nicely. Happy with the progress he's achieved. He's doing very well" Year 2 parent
"I think the people in this school are amazing the way they have helped Tyler feel welcome not matter what his needs!!!" Reception parent
"Helen and Sharon have been absolutely wonderful in working at speed to make all the preparations for Alex to feel settled at GD's nursery. It has been great to see all the support in action with his own assistant and with Sharon on site to help Alex with his speech and language. " new Nursery parent
"I have always found the inclusion team to be approachable and supportive. They work with me as well
as my children when we have any issues/ worries. Their interventions have helped my child to progress in areas of difficulty, and through difficult times they have been amazing. Can't thank them enough" Year 5 parent
"I find the SEN provisions offered are fantastic. Myself, James and Marlie are offered a great amount of support from all the team at Grimes Dyke. I can't even begin to describe how much we have all benefitted from being at the school. A massive thank you to all the staff." Year 4 parent
What do the governors say?
"In all classes I saw children engaged in their learning and confident in their ability to talk about what they were doing. In part, this is a consequence of imaginative planning and teaching by class teachers. The children whom I saw working on learning walls targets were keen to talk to me about both what they were trying to improve and their past achievements. Learning walls were creative, interesting, and well explained to me by T.A's. I also observed T.A's integrating their 1:1 work with children alongside their work with those particular children when they were participating in whole class teaching. I observed this in several classes: the children are used to people going in and out of class and continue to pay attention to the task in hand.
The relationship between T.A's and the particular children with whom they work was positive: examples of phonics and reading were seen with the children and T.A. working successfully together. The T.A's clearly knew how to support and develop the children's learning.
The Den (Nurture Provision) is a welcome additional resource for children with social and educational needs and/or disabilities of various types. The pupil who showed me round it was interested, engaged, and well able to tell me about (and demonstrate!) their afternoon activities for that day. Their enjoyment and safety in The Den was positive to see." Ruth Hall