Headteacher Postcards
Headteacher Postcards
10 April 2020 (by L Hill (Miss Hill))
36 children will get a headteacher postcard this week for their home learning. Will it be you?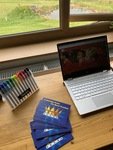 Miss Hill has been busy writing postcards to children who tried really hard with their home learning before the Easter holidays. Remember it's the holidays now but if you didn't get a postcard this time what could you do to show Miss Hill how hard you're working? Have you been on TT Rockstars for ten minutes every day? Have you read using the MyON app or sent an email or photograph of your work?
We miss you all lots.