What do you miss about school?
What do you miss about school?
20 April 2020 (by L Hill (Miss Hill))
It's the start of the summer term today and another week where school is closed. What do you miss the most? Miss Hill can think of a huge list but has designed a poster to show the top three things she misses.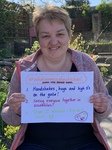 This week's home learning challenge is to design your own poster to show your top three things that you miss about school. Have your photo taken with the poster and send it to Miss Hill at headteacher@grimesdyke.leeds.sch.uk or you could Tweet it at @GD_Primary or even add it to our Facebook page. We will put all of the entries on our website so everyone can see what Team GD miss about school. Click the link here to see the ones we have already, good luck!
https://www.grimesdyke.leeds.sch.uk/parents/home-learning/home-learning-weekly-challenge/what-we-miss-about-school